December 8, 1984, Saturday Night Live, Host: Ringo Starr - "The Unlucky Man"
Late for his triangle lesson with Mr. Muldane, Ed waits on a bus bench beside Ringo Starr. Ed observes Starr getting struck by lightning multiple times and marvels that Starr could survive it. Starr tells him he is used to it, as he is a Very Unlucky Man and it happens all the time. Ed gives Starr his favorite lucky coin, and the heavens clear and the sun shines. Then Starr gets struck by a car and he hands the coin back.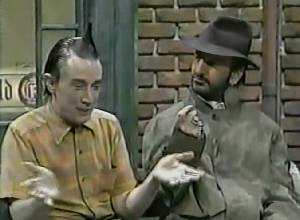 ---
The textual content of this page was written by C. "Sparky" Read, and may not be reproduced without her consent. Screengrabs may be taken and used without permission (though giving credit would be polite). You may not hotlink to these images. If you want to display them on another website you must copy them to your computer and then find a place to host them. I only only afford to host my own images. Thanks.