Nhandu Chromatus, "Brazilian Red and White"
I bought this one at the 2007 Sacramento Reptile Show from LLL Reptile. He was only $19 so I thought he looked like a good buy, even though I didn't know what a "Lasiodora cristata" was. Then I got home and found out that the more common name nowadays is Nhandu chromatus and he was a birdeater, and specimins his size (almost 2") seem to usually go for over $50. Neat. He's active and eating and a cool little guy. It sounds like they can be aggressive though so I gotta be careful with him.
He's molted twice since I got him and is over 3" now. They grow fast.

The first pic I took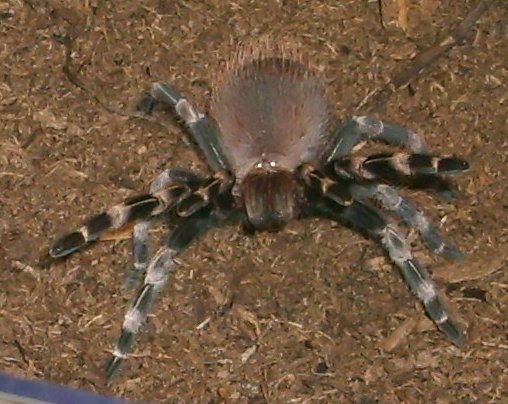 Aw, he thinks he's scary

He starred in this short film!
(Yes, it's sped up)